ExhibitTrader Builds New 400sq ft Exhibit at AES NYC 2019 for Waves Inc.
10/17/2019
EXHIBITTRADER.COM, Inc., a Dallas,TX based corporation and total exhibit solutions provider was selected for the design, fabrication and installation of a new 800 sq. ft. Island exhibit for its client Waves, Inc. In a joint collaboration with the Waves Audio team, SEG, Nth Degree and other key partners; we created a captivating interactive sales and product presentation environment which debuted in its smaller 20'x 20' configuration at AES New York's 2019 147th Pro Audio Convention at the Jacob K. Javits Convention Center by the Audio Engineering Society in New York City, Oct. 16th-19thth.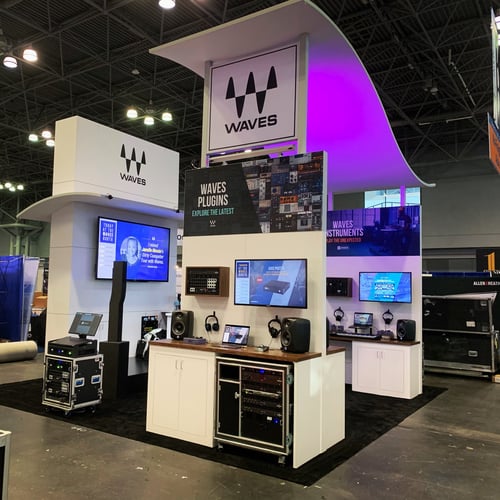 In their AES19 exhibit space, Waves Inc showcased its full line of product and service offerings to customers through the usage of large format SEG graphics, a colorfully illuminated overhead fabric wave structure and a 16' tall tower for high logo identification throughout the hall; the tower structure housed two large flat screen AV monitors and an attached dedicated stage for live presentations.
Utilizing custom engineered built-in workstations and integrated wall mounted cabinetry, Waves showcased real time working components, audio and correlating flat screen monitors for product demonstration to its audience, by product line; along with additional freestanding demos placed strategically throughout the booth.

"The entire team at Waves was a great group to work with on the project and all the technical and engineering effort put in by all parties truly paid off on opening day. The exhibit received several compliments on the floor from customers, partners, industry peers and neighboring exhibitors" said Jason Wooten, VP of Sales.

Waves Inc.'s larger and more elaborate 20' x 40' version of the exhibit will be featured at the 2020 NAMM Show from January 16th-19th, 2020 at the Anaheim Convention Center - Booth 15302. We already are looking forward to the next booth design and configuration for 2020 NAMM.
Click here to read full article on EXHIBITOR online
About ExhibitTrader
ExhibitTrader is a professional online exhibit company. Our total focus is providing our customers desktop access to creative marketing experiences, affordable trade show display solutions and superior customer service without the overhead. Our full complement of tradeshow exhibit offerings and services deliver our clients high impact presence with highly successful results. Discover a new way to shop online for new and rental exhibits, buy or sell an exhibit on our used booth marketplace or engage online with our creative team to design your next display or graphic message. From concept to creation to show site installation, we've got you. For information visit www.exhibittrader.com.
Learn about Waves, Inc.
With 25 years of achievement in professional audio, Waves, Inc offers intelligent technologies built to ensure exceptional audio experiences. Waves Inc has grown into the worlds-leading developer and supplier of software-based audio signal processing tools. www.waves.com
Contact: