ExhibitTrader.com Unveils 900 sq ft Exhibit for Lilu's Garden at Supply Side West
10/24/2019
EXHIBITTRADER.COM, Inc., a Dallas, TX based corporation and total exhibit solutions provider was selected for the design, fabrication and installation of a new 900 sq. ft. Island exhibit for its client Lilu's Garden. In a joint collaboration with Lilu's team of executives, iC3 Creative, CREW, Black Book Studios, AV Dimensions and other key partners, we created a captivating visual product presentation with an illuminating, interactive sales environment within the 30' x 30' island configuration at the Supply Side West show at the Mandalay Bay Convention Center in Las Vegas, NV, October 17-18, 2019.
Our ultimate objective in the design for Lilu's exhibit at Supply Side West was to create an illuminating and inviting environment for vendors, clients and new potential customers, to showcase and convey Lilu's mission to effectively scale the processing of industrial hemp's derivatives in the purest forms and most efficient ways of making them available to the producers that provide this extraordinary gift of natural health and healing to consumers world-wide.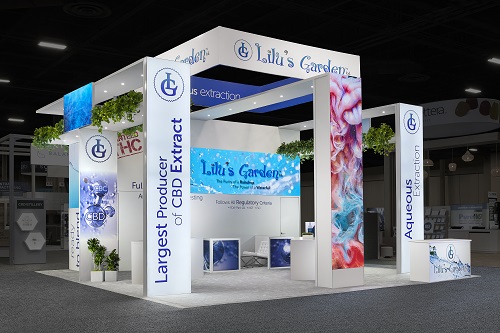 Unveils 900 sq ft Exhibit for Lilu's Garden at Supply Side West The team accomplished the goal by producing a towering 16' tall, open and airy exhibit, laced with high resolution LED video tiles and static back lighted SEG graphics throughout much of its front, back, horizontal, vertical and corner surfaces. Two sprawling 25' canopies running overhead housed a vegetation garden and sandwiched two additional LED video walls on each side aisle of the booth. The center 30' canopy and down lighting spanned the entire depth of the display, connecting a spectacular 16' tall LED tower at the booths entrance, to a massive graphic wall structure in the back of the displays floor plan. A semi-private conference/seating area, large storage closet, demonstration/workstations and a large overhead hanging sign adorned the remaining booth space.
"Lilu's Garden, a leader in the CBD processing business, chose Exhibit Trader (ET.c) because we were convinced the company would fulfill our needs and take our tradeshow booth to the next level in the industry. We weren't disappointed! ExhibitTrader listened and understood Lilu's vision in this new industry of CBD processing as a quality, consistent multi-phasic industrial hemp processor that could scale to the largest users. Consequently, their finished booth design and spectacular video-graphics truly exceeded expectations showing Lilu's features and benefits and made a major indelible mark at the SSW19 Show," said Gerri Ciancanelli, COO, Lilu's Garden.
Lilu's Garden specializes in the production of CBD and other minor non psychoactive cannabinoid isolates and oils for use in a wide array of market segments including; Nutraceuticals, Food and Beverage, Pet Care, Specialty Products and Cosmetics. With offices in four states, nationwide farming and a 175,000 Sq. Ft. hemp derivatives production facility, Lilu's Garden is the largest and most advanced vertical hemp operation in the world.
Click here to read full article on EXHIBITOR online
About ExhibitTrader
ExhibitTrader is a professional online exhibit company. Our total focus is providing our customers desktop access to creative marketing experiences, affordable trade show display solutions and superior customer service without the overhead. Our full complement of tradeshow exhibit offerings and services deliver our clients high impact presence with highly successful results. Discover a new way to shop online for new and rental exhibits, buy or sell an exhibit on our used booth marketplace or engage online with our creative team to design your next display or graphic message. From concept to creation to show site installation, we've got you. For information visit www.exhibittrader.com.
Contact: